I just wanted to do my part to show my support and help save the internet. What's wrong with the internet? You may have heard about SOPA — the Stop Online Piracy Act or its sister bill in the Senate, PIPA — Protect IP Act, but do you really know what will happen if these bills (or any similar bills) pass? They will stifle free speech and innovation while making the internet less reliable and less secure. In other words, they will break the internet.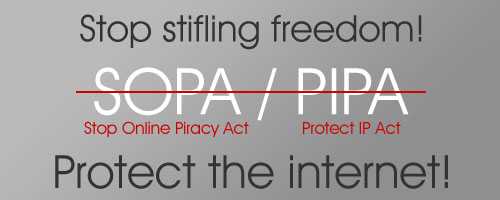 We need to do everything we can to fight this legislation. Oppose SOPA/PIPA however you can. Help spread the word by talking/blogging/tweeting about the issue or contact congress and let them know how you feel.
Watch this video to learn more.
What do you think? Please leave a comment below if you have anything to add.