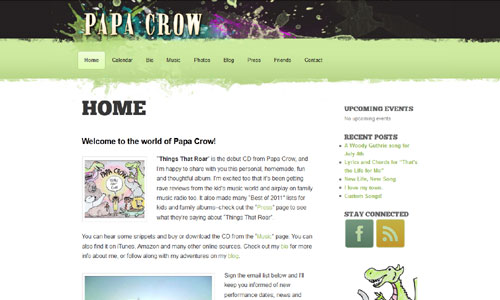 Client: Papa Crow
Date: May 2012 – August 2012
Task: Web Redesign, Front-end Development, CMS
Papa Crow crafts thoughtful and fun music for kids and families. After starting his own family, he dove headfirst into children's music and decided to make his own album. In 2011, "Things That Roar" was released. This was his debut album of homemade kids and family songs that explore such topics as invisible polar bears, chicken lips, hairy frogs, things not to be afraid of, licorice, lemonade, kites, etc.
Client Testimonial
I had been using a template-built site for my kids and family music web presence; the content was there but presentation was dull and wonky.

Obadiah took my concepts and crafted a fresh user-friendly site that has the right feel for my brand. I'm confident he'll be there to help grow my online presence and will have imaginative solutions as my website evolves.

Marquette, Michigan
Jeff Krebs
Papa Crow