Papa Crow, a.k.a. Jeff Krebs, hails from the beautiful south shore of Lake Superior. He crafts thoughtful and fun music for kids and families. After starting his own family, he dove headfirst into children's music and decided to make his own album. In 2011, "Things That Roar" was released. This was his debut album of homemade kids and family songs that explore such topics as invisible polar bears, chicken lips, hairy frogs, things not to be afraid of, licorice, lemonade, kites, etc.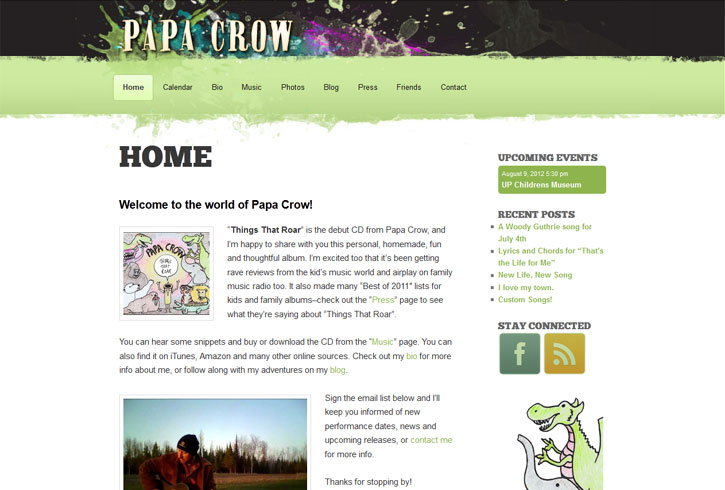 The Old Papa Crow Site
Papa Crow's original website was a do-it-yourself sort of template site that didn't really capture the essence of his music or personality. The content was there, but the layout was a little strange and the color scheme was kind of boring. We scrapped the entire thing and replaced it with a custom designed and developed site.
The New Papa Crow Site Design
For his new website, I wanted to create a look and feel that was in sync with his music. To do this, I incorporated elements from the "Things That Roar" album cover. In the sidebar, there are images of the animals. Even the color scheme of green, orange, gray, and white was a result of color sampling the album cover. The site also features an event calendar, music player and store, photo gallery, blog, and much more.
Logo Design
I designed a logo for the main site title. The idea was to introduce a vibrant element that embodied the spirit and innocence of a child's painting. The bright logo dominates the header of the website and also ties in with the footer graphics.

Responsive Web Design
The site uses responsive web design to adapt to multiple screens and devices. CSS media queries are set to serve specific rules to devices with certain screen sizes. This allows the site to adapt to the screen its being viewed on, and hopefully enhance the user's experience.
Webfonts
Embedded Webfonts are utilized for the page titles and widget titles. This allows for easy updating of the site without having to create new graphics each time a page or widget is published. The typeface "Chunk Five Regular" was chosen for it's friendly demeanor, thick strokes and serifs, and ability to be readable in a wide variety of sizes.

Event Calendar
The event calendar is a robust app that features multiple categories, a sidebar widget that displays events in a list format, and user friendly interface options.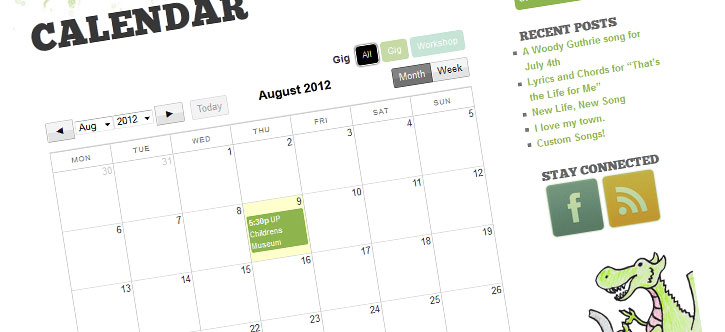 When an event on the calendar or in the sidebar widget is clicked, event details are displayed in an overlay window. The details include time, location, map link, and web link if available.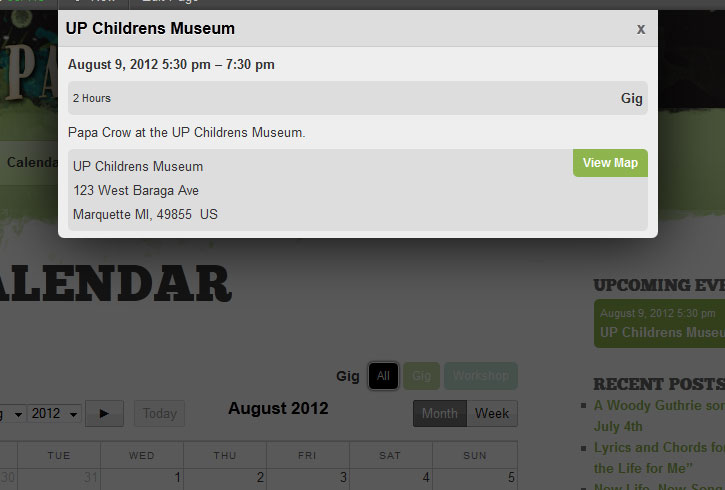 Photo Gallery
The Photos page shows thumbnail images of Papa Crow. When clicked, full-size images open in an overlay window. They open as a slideshow by default, but can be manually navigated as well.
Music
The Music page features Papa Crow's very own CD Baby widget. This widget allows visitors to listen to samples of his songs, and also buy them. The songs can be purchased individually, or by album. Physical CDs, as well as digital MP3 downloads, are available.