This post will help you learn how to blog. So, you finally have your own blog. Now what? You've been anxiously awaiting the moment, and now that you have the ability to share your thoughts with the entire world, you can't think of anything to say. Maybe you feel intimidated by the whole concept of a world-wide publishing system at your fingertips. Maybe the user interface of your blogging software or CMS (Content Management System) is confusing and difficult to use. Maybe you're second guessing your own ideas.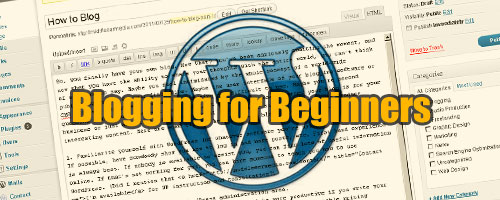 Whatever the reason, it must be overcome. Whether you plan to blog for business or just use it as an outlet for your personal ideas, to be successful, you must produce interesting content. Here are some tips and tricks to help get your blog up and running.
1. Familiarize yourself with WordPress.
One of the main reasons why you wanted a blog was so that you could make updates yourself. To do this, you must be familiar with and able to use your blogging software or Content Management System. If possible, have somebody show you how to log in and make posts, etc. First hand experience is always best. If nobody is available to assist you, you can find lots of useful information online. If that's not working for you, you can hire someone to teach you how to use WordPress.
(Did I mention that I'm available for WP instruction and consultation?)
2. Write your post before logging in.
Don't try to write your post from the Add New Post page in the WordPress Admin panel. Even if you've become familiar with WordPress, you'll be more productive if you write your ideas down on paper or in a word processor first. This is a more comfortable writing environment for the majority of people. It will allow you to focus on the content of your blog post instead of being distracted by other elements of the WordPress interface. Most of us have too many distractions already. So, why add more?
3. Don't copy or scrape content.
Create your own content and be original. It's not only unethical and possibly illegal to copy or scrape content from other blogs, it can actually be detrimental to your listing on SERPs (Search Engine Results Pages). When the same content is found on multiple pages by a search engine, it could result in a lower search ranking for both of them. Also, if the site you copied from is more popular than yours (which is likely if you're using their content), your site will be pushed down in the search rankings. If you find it absolutely necessary to inform your audience of some other content, write up a brief summary and why you think it's important to your readers. Don't forget to include a link to the original article and give credit to the original author.
If you can't think of any ideas or topics for your own posts, have a look at How To Blog: Topic Tips.
4. Don't worry about perfection.
Of course you want your blog post to be perfect, but don't let that stop you from generating content. Remember, you can always edit your posts after they are published. That being said, please spell-check, proof-read, and double check everything before posting. In most many cases, the bulk of the traffic that a page generates comes shortly after it is posted.
Learn How to Blog Better
So please, take the time to nurture your blog. Consider your audience, create quality content consistently and you will see an increase in traffic. As usual, your comments and questions are always welcome. Blogging shouldn't feel like work. Learn how to blog better and don't forget to stay creative!