If you ever receive a letter in the mail from the Domain Registry of America, please read the small print. It's a fake domain expiration notice. Do not send them any money. Don't fall for the Domain Registry of America scam. Don't let yourself be a victim of this deceptive domain name transfer trick. They're trying to get you to transfer your domain registrations to them by misleading you into thinking that you're renewing your domain registrations with your current registrar.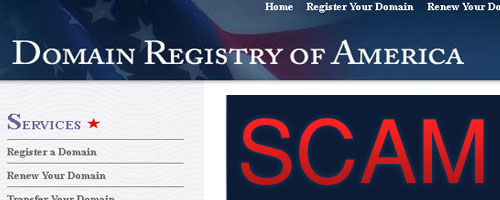 History of Shady Business Practices
Back in 2003, the Federal Trade Commission (FTC) reached a settlement with the Domain Registry of America for practices such as transferring domain registrations to their service under the guise of domain renewal, a practice known as domain slamming, and having hidden fees. They were forced to give some refunds and change their advertising slightly.
In 2009, the Advertising Standards Authority (ASA) released an adjudication on the Domain Registry of America. The recommended action was that the mailing must not appear again in its current form.
Don't Be Fooled
Apparently the punishment wasn't enough to persuade them to discontinue these practices. With a few minor alterations, they've continued these same practices. I've gotten several of these notices from the Domain Registry of America over the past few years and a few of my clients have also received them. I renew all of my domains electronically and only receive email alerts when a domain is nearing expiration. Maybe that's why I've never been fooled. Also, I'm familiar with the names of the registrars that I do business with.
Don't Get Slammed
The problem is that I often register domains for clients. While this is convenient for them, they are far less familiar with the entire process and therefore more likely to be fooled by companies like Domain Registry of America. Hopefully, by writing this article, I can alert more people to the Domain Registry of America scam in advance and help prevent any unintentional domain transfers.
File a Complaint
Have you had enough of these dirty business tactics? Please feel free to file a complaint with the Federal Trade Commission at www.ftc.gov. You can file an online complaint. You can also send a written complaint with your scam letter to:
Federal Trade Commission
Consumer Response Center
600 Pennsylvania Ave., N.W.
Washington, DC 20580