Instrumental is a small, high end electro-magnetic transducer company that designs and manufactures custom transducers for small guitar companies. In other words, Instrumental makes guitar pickups! This is the first client site to utilize (a slightly modified version of) my new WordPress Theme MEM Core.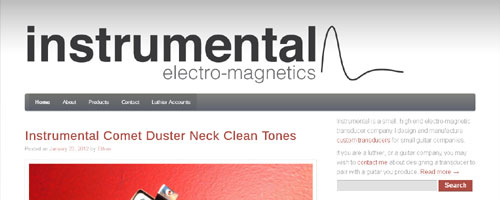 The Instrumental web site benefits from all the built-in goodies of MEM Core such as responsive design, custom nested drop-down menu, customizable header, customizable background, multiple widgets in sidebar and footer, threaded comments, automatic link icons, and beautiful web fonts.
The color scheme and fonts have been modified to fit with the Instrumental brand. Also, a custom page template is used for the products page so it pulls content from the individual product pages and links to them. The individual product pages are set up with an image thumbnail gallery at the bottom of each. Clicking on a thumbnail brings up the full-size image in an overlay window that acts as a slideshow and cycles thru all images within that gallery, but also allows manual navigation.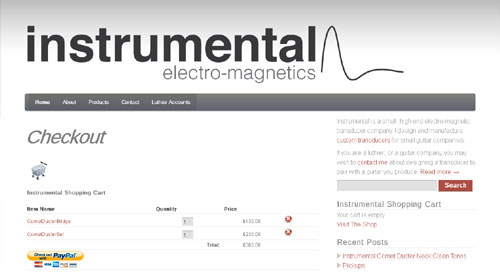 It is vital that Instrumental's products can easily be purchased online. So, I implemented a simple yet effective e-commerce solution. Each product page has an "Add To Cart" button. When clicked, it brings the user to the checkout page, also known as the Shopping Cart. From here, they can add or remove items, change quantity, and when they're ready, click the "Check out with PayPal" button. This button brings the user to a PayPal order form where the payment transaction takes place. The Shopping Cart also shows up in the sidebar after the "Add To Cart" button is clicked.