The August poster for Harley's Lounge features the Mayan calendar both as the center piece as well as the background. In the center, it is covered by white splatter which makes the title easier to read. For the background, I used a gray, brushed metal texture. Also, the large Mayan calendar in the background is offset to the lower left with blend mode set to luminosity and opacity set to 14% so the brushed metal texture comes through.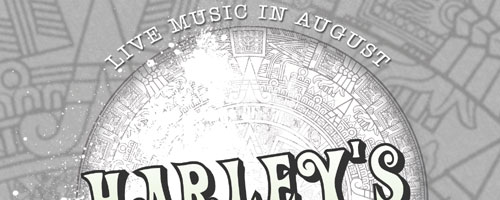 Three different fonts were used for this design. Most of the copy, including the dates and band names use AlternateGothic2 BT while the month uses AmerType Md BT and the title uses Action Is, Shaded JL.
Harley's Lounge is one of the few venues in Marquette that supports local music and I am proud to design their monthly posters.