There is a project I've been working on lately that I'd like to share with you called Wings and Seeds – The Zaagkii Project. It is a native plant and pollinator protection initiative that began in 2008. It's all about recognizing that pollination is an essential ecological function for our survival, and then doing something about it.
Brought to you by the Cedar Tree Institute in collaboration with the Keweenaw Bay Indian Community and the United States Forest Service, this initiative makes an intentional connection between the restoration and healing of the earth with the renewal of the human spirit.
If this strikes a chord with you, please get involved in any way you can.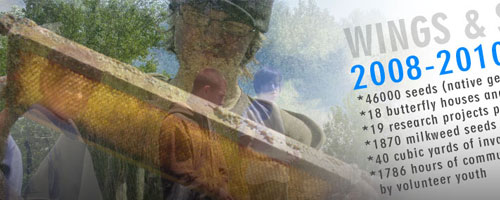 This site was developed specifically to utilize many of the new features that WordPress 3.0 offers. Some of these features include swappable default header images, custom header images for each page or post, multiple widgetized areas in the side bar as well as the footer, custom styles for certain categories, and a customizable drop down navigation menu.
I worked closely with the project leaders to develop an identity for the site. I designed the logo, the custom graphics, and chose the color scheme of white, gray, orange, and blue. I'd like to give a big thanks to Greg Peterson for supplying most of the content for the site.