White's Party Store now has a web site! Known throughout the area for their personalized customer service, and great selection, White's is the place to go. White's is a classic Marquette neighborhood store specializing in quality wines, beers, liquors, and brewing and wine-making supplies. Their new web site includes a photo gallery, historical information about the business, a blog section that will be updated frequently, and many ways to make contact with them.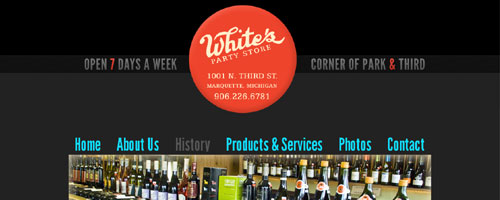 Along with the web design and development, I also developed their logo and branding, and designed a print ad. I used cream lettering inside a red circle for the logo. For the favicon (or bookmark icon), I simplified this and used a cream double u inside a red circle.
The site is dark, but vibrant and modern looking. I used dark gray backgrounds, cream and light gray text, and vibrant green, red, and blue for titles and links.
They are centrally located in the Village district of Marquette just a few blocks from Northern Michigan University, Marquette General Hospital, and downtown Marquette. For visitors who aren't familiar with the area, there is an interactive map and step by step directions to help them find the store.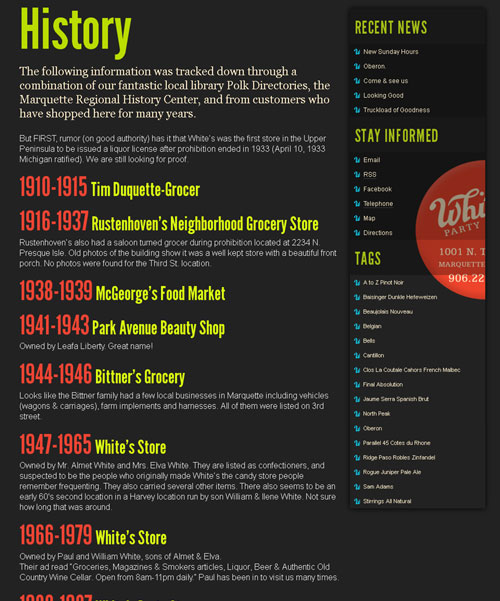 White's Party Store is a century old, locally owned and operated small business. They take pride in offering locally produced products including the finest Michigan made beer, wine, and liquor. Check out the photos page to get a glimpse of what they carry or subscribe to the RSS feed to stay updated on what's new.
So, the next time you're thirsty for a tasty beer (or whatever), do yourself a favor and stop in at White's.