Terracotta half-life is a tropical funk band from Marquette Michigan that I founded over five years ago. I created the first website for the band in 2005. It was a static site built with HTML and formatted the "old" way with lots of nested tables and inline styles. It was a real pain to update. Over the years, its been evolving with the band and now looks like this.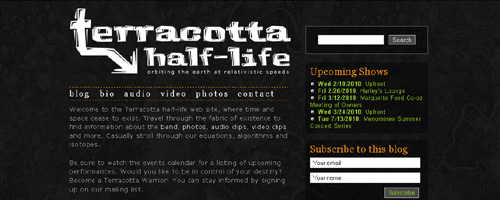 The site has gone through several revisions since 2005. It was given a proper style sheet, the layout was changed several times, and of course the actual content was modified (many times).
In 2008, the site went through a major overhaul with a transition to a WordPress based site. Built with PHP and using a MySQL database, it was now a dynamic site with blogging functionality and an RSS feed. However, I used a generic WordPress Theme (slightly modified) for this version of the site and was never completely satisfied.
Now, its been completely redesigned again. This time with a new WordPress Theme that I custom designed. Although the site has been completely redesigned, my goal was to maintain a similar feel. So the logo, background image, and color scheme have essentially remained the same.
The site is now more user friendly with a horizontal navigation bar just under the logo as well as at the bottom of every page. This should make it much easier to navigate the site.
Also, the blog has been moved to the main page instead of being separated into different categories and buried in the site somewhere. This should make it more interesting to visitors immediately upon arrival.
You can now subscribe to the blog via email as well as RSS feed.
The Photo gallery is now broken into separate years to make photo browsing easier.
Of course there were a lot of other small changes made that I won't go into, but let me just say that I am much more satisfied with the site now.