Tamarack Custom Builders are known for applying sustainable ideas to their custom built homes and remodels. Owner Mike Potts and his talented crew were some of the first in the Marquette area to embrace green and sustainable building techniques. I designed and developed a web site for Tamarack Custom Builders earlier this year. The site includes a blog, a section to showcase the various projects they've done, and of course the usual information about and methods to make contact with them.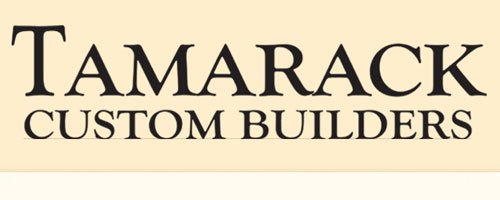 Some notable features of the site are:
1. @font-face
A relatively new method for including different fonts called @font-face was used extensively to embedded the ArchitectsDaughter font throughout the site.
2. Dynamic Page Creation
The homepage is created dynamically and includes content from three different pages. At the top is the first paragraph from the About page. In the Featured Project section, a link to one randomly selected project and its accompanying images are shown. Because its random, the homepage looks a little different each time it is loaded. The Latest Blog Posts section displays only the most recent blog posts.
On the Projects page, all of the projects are listed in random order. These are added dynamically from the Project sub-pages. Each one includes a link and (up to) three images from each project's photo gallery.
3. Photo Gallery and Slideshow
For each project, details and a thumbnail photo gallery are provided. A click on one of the thumbnails brings up the full size image in an overlay window where it cycles through the images in the gallery like a slideshow.
4. Content Management
The Content Management System (WordPress) is set up to make it very easy for Tamarack Custom Builders to add more projects and photos in the future.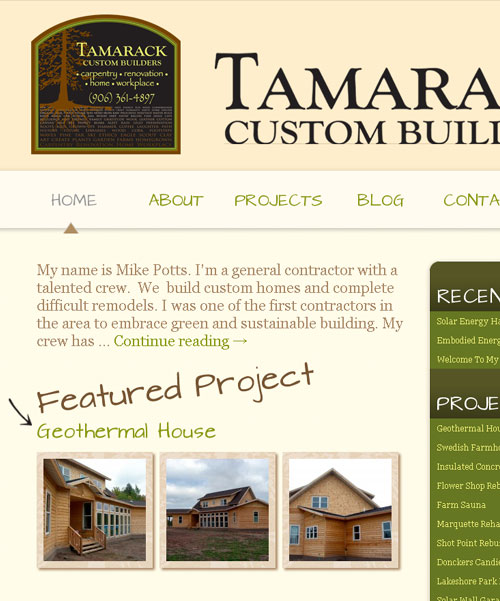 The site is light and earthy. I used a cream background, brown text, and green links. Also, several shades of green and yellow were used in the sidebar. The section titles on the homepage were rotated -6 degrees to make them more interesting. The navigation links employ unique styles for hover, active, and current page states. The current page state prevents the link from activating and thereby reloading the page.
There are also custom styled date boxes and comment bubbles for the blog posts. All images are given a special border that uses a background image as well as a box-shadow to create crisp frames for photos that seem to jump out of the page.
Tamarack Custom Builders truly care about their work, and their new web site clearly shows why.