It's been ten years since I began this project. I guess it's time to start promoting it. Tai Chi Chuan is an internal Chinese martial art that helps develop agility, balance, relaxation, and much more. As a musician, I wanted to find a way to combine my passion for music with the healing power of Tai Chi.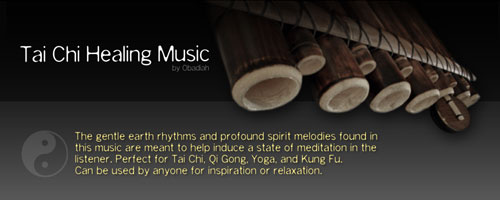 In 2002 I recorded Tai Chi Healing Music Volume One. After receiving such a great response from the first album, I began working on another installment and released Tai Chi Healing Music Volume Two in 2004.
I use a number of natural instruments to create a unique sound. These recordings feature such instruments as, Libaphone (melodic bamboo percussion), Kalimba (thumb piano), Pan Pipes (bamboo wind), Rain Stick (cactus), Shakere (gourd with netted beads), Hawaiian Drum (gourd), Conga, Doumbek (ceramic drum), Flute, Wind Chimes, and more.
The gentle earth rhythms and profound spirit melodies found in this music are meant to help induce a state of meditation in the listener. Perfect for Tai Chi, Qi Gong, Yoga, and Kung Fu. It can be used by anybody (artists, writers, etc.) for inspiration or relaxation.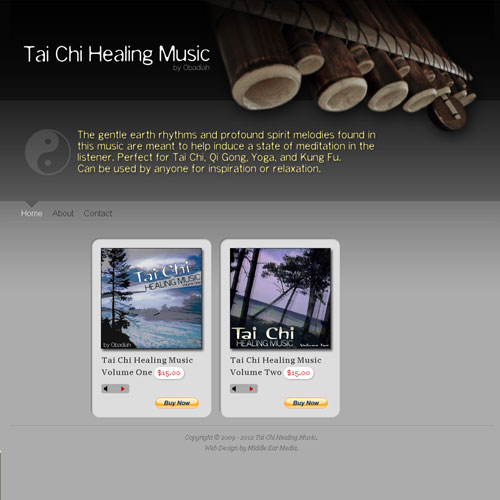 In 2009 I registered a domain name and began working on a web site. It's taken me three years, but it's finally done. The site is very simple with basic info and contact form. The main attraction is the music. For each album there is cover art, a short music sample, and a "buy now" button. Clicking on the button brings you to a PayPal checkout page.
Hopefully, by offering free audio samples and making it easy to order, I can spread my healing music around the world and enrich the lives of many more wonderful people.
I'm currently thinking about starting work on Tai Chi Healing Music Volume Three, so there should be even more music to choose from soon.