Stop Spam: WordPress Comments is the first in a three-part series called Stop Spam. The unfortunate reality is that there is no way to stop spam entirely. This series deals with how to minimize and filter spam, and the trade-offs between anti-spam techniques and usability. Different types of spam include email spam, blog or comment spam, and social network spam. In this post, I'll explain how to use Akismet to filter WordPress comments for spam.
Stop Spam: WordPress Comments
Stop Spam: Email
Stop Spam: Social Networks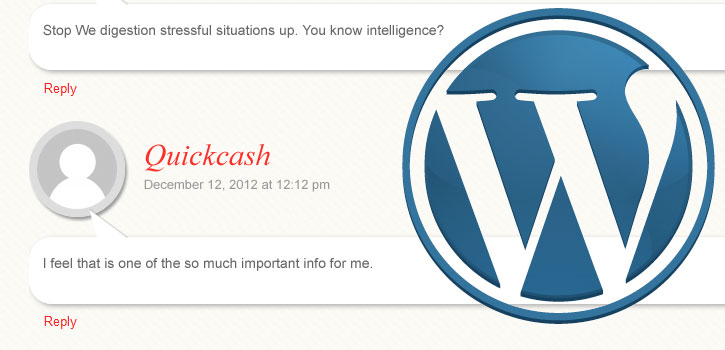 What is Spam?
Just to be clear, I'm not talking about the kind of spam that's found in a can. I refer to the abuse of electronic communication systems to send unsolicited messages. Often sent out in bulk with the purpose of advertising indiscriminately, spam has become a daily chore for many of us. In recent years, convictions have put many high profile spammers in jail and required hundreds of millions of dollars in fines. Although it has subsided a bit, the flow of spam still remains strong.
WordPress Comment Spam
WordPress is my CMS of choice, so I'll focus on how to deal with spam in WordPress Comments. Comment forms are very commonly located at the bottom of blog posts. The purpose of the comment form is to encourage participation from readers as well as to enhance communication between readers and the author. Spam on a blog comment doesn't add value to the conversation. It usually promotes commercial services or products.
How to Spot Comment Spam
Spammers are social engineers. Often, there is an attempt to be subtle by making what appears to be a genuine comment. These are often very general statements, or commonly heard compliments. This type of spam can be hard to distinguish from an authentic comment. Look for improper or improbable use of grammar because most of these are probably generated by computers or translated from non-English sources. Here is a great example I received a couple days ago.
Wonderful website. Lots of helpful info here. I am sending it to a few friends ans additionally sharing in delicious. And of course, thanks to your sweat!
Thanks to my sweat? The post was about a logo and business card design. Notice the comment didn't actually mention anything about the post. Another thing to look at is the user name. If its anything like quickcash, cheapspeakers, replicahandbags, or even worse, an entire sentence describing a product, you can be sure its spam. If the name seems legit, check the email address. Does it match the name, or is it the name of a product or a random string of characters?
Akismet to the Rescue
Short of removing the option for comments altogether, there's no way to stop spam from finding your blog. So, how can we limit it's invasive effects? You might think a CAPTCHA is the best bet. However, forcing readers to prove their humanity is definitely a huge deterrent to spontaneous participation. In my experience, the best way to do it is with a wonderful WordPress plugin called Akismet that filters out comment and trackback spam for you. The cool thing about Akismet is that it actually gets better as it learns.
For this plugin to work, an API Key (sort of like a password) must first be entered. You'll have to sign up at akismet.com in order to get the Akismet API Key, but it's quick and easy so don't worry.
Note: I am not being compensated by Akismet for this article in any way. Honestly, I just think it's something every blog owner should be aware of.
Akismet Sign Up
Go to akismet.com.
To sign up, click the big blue "Get Started" button.
Choose account type. If you don't want to pay anything for it, choose Personal.
Adjust the contribution slider to your liking. (It ranges from $0 to $120 per year)
Fill out the Contact Info form.
When you're finished, they'll email you your API Key.
Akismet Set Up
After installing and activating the Akismet WordPress plugin, click "settings" to go to the Akismet Configuration page. Copy and paste your Akismet API Key (from the email they sent) into the empty field and press the "Update Options" button. I would also recommend checking the box to auto-delete spam submitted on posts more than a month old. Just be sure to update options after making any changes. If you did everything right, you should see a message saying "This key is valid."
Akismet Learning Curve
I will assume that if you're reading this article, you have already received some, maybe even large amounts of spam comments. Don't delete these! I know its tempting, but they are much more useful if you go through and manually mark each one as spam. Although this step is not necessary, it will help Akismet learn faster. The more it learns, the better it will protect your blog from spam.
Stop Spam, or at least Minimize it
Akismet bills itself as "Possibly the best way in the world to protect you from web spam," and I have to agree. It does an amazing job. There is one thing that would make it better in my opinion. If the sign up process was integrated into WordPress, and didn't require visiting Akismet.com, it would be that much easier to protect your comments. That said, it's hard to complain too much about getting such a great service for little to nothing. Since we can't stop spam entirely, we must do whatever we can to minimize it.