Sisu Spine, LLC is an independent distributorship based out of the Marquette area that provides consultative solutions to spine surgeons in northern Michigan and northern Wisconsin. They distribute spinal implants used to treat maladies of the spine including degenerative disc disease, deformity (such as scoliosis), trauma, etc. Their brand new web site is now online and fully functional.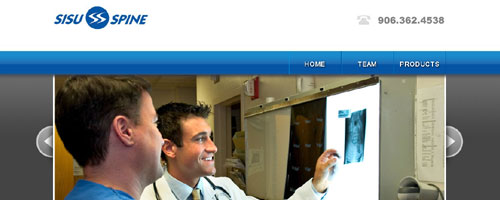 The site is professional, refined, and inviting. It is meant to be used by orthopedic surgeons and neurosurgeons who specialize in spine surgery, medical device companies specializing in spine that are looking for distribution, and prospective employees.
The name of the company represents an homage to the strong Finnish heritage and culture found in the Upper Peninsula of Michigan. Sisu is a Finnish term that can be loosely translated into English as strength of will or determination. The name is very appropriate, as anybody with a serious spinal problem or injury can attest. The color scheme is derived from the Finnish flag, which is said to be inspired by blue lakes, blue sky, and white snow.
The concept for the basic layout and design of the site was formulated by Chuck Goudy, General Manager of Sisu Spine, LLC. Chuck had previously run another spine distributor company and had a very good idea of what he wanted his new site to look like. I took his ideas and developed the site around them, making minor adjustments and augmentations to fine-tune the layout and ensure proper functionality and usability.
Prominently featured on the site is an automated image slider that rotates through several images. It can also be controlled by using the left and right arrows found on either side.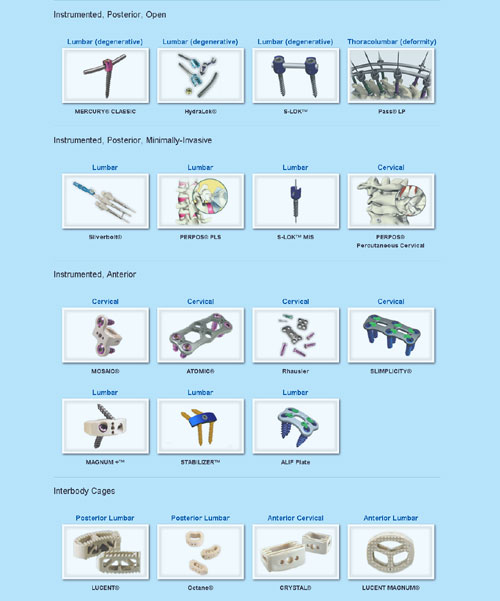 The products page contains a list of featured products, which are links to their respective company websites. The products are categorized according to clinical use so as to be more useful to surgeons.
Special styling was applied to the product images. First of all, they were given a white border and gray drop shadow. The images are also semi-transparent. However, when hovered over with a mouse (or other pointing device), the images become fully opaque and the white border becomes blue.
While I do occasionally suffer from back pain, I'm glad that I've never needed a spinal implant. It is reassuring though, to know that local surgeons have access to these devices.