With the launch of their new website, you too can roll with the Steady Holders. The site was part of an identity and branding effort for the band that also included designing their logo. Several interesting techniques were used in the development of the website and I'd like to share some of the details with you.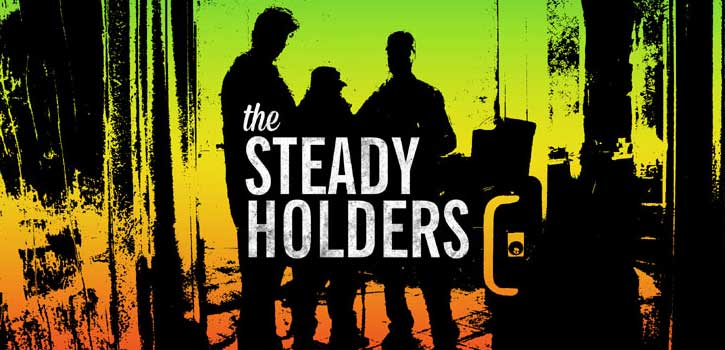 The Steady Holders are a Dub Reggae group from Marquette, Michigan. They now have a website which enables them to share their music and connect with the world. To create their visual identity, I started with the logo design. Then I chose a limited color palette based on the classic reggae color scheme of green, yellow and red. With this material, and a little creative know-how, the Steady Holders website was born.
Website features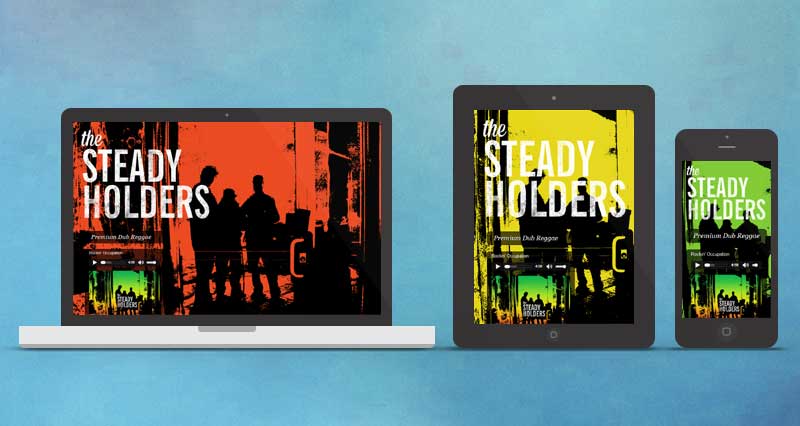 Mobile First Responsive Design
The website was build with responsive design techniques such as media queries. Media queries allow for different styles to be applied based on the size of the screen. The site uses a mobile first responsive design approach, meaning it was initially designed for a small screen. Media queries were then used to make size and layout adjustments for larger screens. This helps ensure the code is more efficient and the user experience is better across all devices.
CSS Background Color Animation
The background color is given life with CSS animations. It transitions from green to yellow to red in continuous fashion, thus creating the Reggae inspired color cycle effect.
Full Screen Background Image
The background image is a transparent PNG with fixed position. The image is set to be full screen. It will always fill the screen, no matter what shape or size. It will scale or auto-crop and won't ever look stretched. A band photo was used to create this stylized silhouette that allows the background color to show through.
Music Player
As cool as the visual stuff is, what really ties it all together is the music. Listening to the group's unique sound gives visitors a chance to recognize and appreciate whats happening with the background. One song, Rockin' Occupation is currently available. This is good for starters, but the goal is to eventually give visitors the ability to interact creatively with the music. Something like a live web audio mixer with reverb and delay effects. And maybe a couple sample pads baked in for good measure. Live Dub Mixer coming soon.
The Steady Holders have gone Social
The Steady Holders understand how important it is to engage with the community. They can be found all over the web. Links to their social media profiles are listed as icons.