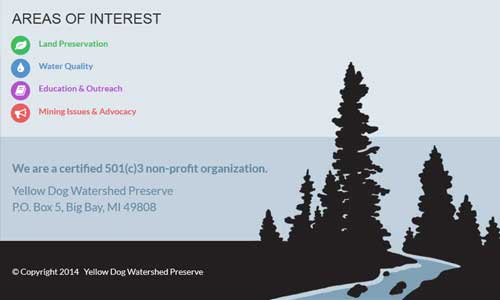 Client: The Yellow Dog Watershed Preserve
Date: March – May 2014
Task: Web Design, Front-end Development, CMS, SEO
The Yellow Dog Watershed Preserve is a local nonprofit organization that's been around since 1995. They are known for their hands-on, in-field work and grassroots organizing. I designed and developed a new website for the organization that focuses on User Experience (UX) and the natural beauty of the watershed. It was designed to help improve public perception, promote awareness of topics, and educate visitors.
Read more about The Yellow Dog Watershed Preserve →
Client Testimonial from Yellow Dog Watershed Preserve
I am so happy I stumbled upon Middle Ear Media through the Marquette grapevine. Obadiah is very thoughtful, timely and fun to work with. He went the extra mile on our behalf, and YDWP is thankful and very happy with the result.

Our site is now more apt to draw attention from our existing and prospective donor network. It has great functions and delightful details.

We appreciate all of your hard work.

Marquette, Michigan
Mindy Otto
Yellow Dog Watershed Preserve