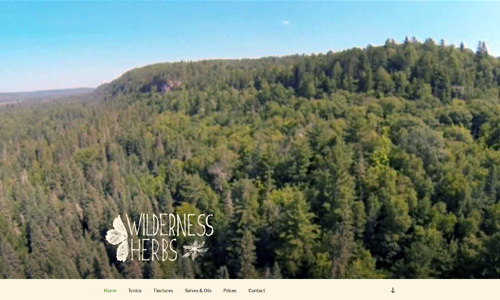 Client: Wilderness Herbs
Date: February 2014 – June 2017
Task: Branding, Visual Identity, Logo Design, E-commerce Website Design, Postcard Design, Business Card Design, Ad Design
Wilderness Herbs have been making high-quality herbal products for more than 30 years.
We helped Wilderness Herbs transition from a traditional mail order only business to an online business. We based their visual identity on existing print material. We used the client's hand drawn illustrations and lettering to create a logo. The website was responsively designed following a mobile first design methodology. It features a header with full-screen background image. The photo is an areal view of the wilderness surrounding the client's home. The website also has a sticky navigation menu, a thorough list of all products with descriptions, prices, and contact info.
Client Testimonial from Wilderness Herbs
Obadiah Metivier at Middle Ear Media made the process of creating my website as easy as possible. It was a task I had put off for years as I am not very adept at computer technology and so I approached it with great trepidation.

Early in the process, he presented me with a series of questions that helped us identify exactly what I was looking for, and he was very careful to ensure that I understood and agreed, with all the decisions that needed to be made.

I was impressed by his attention to detail and his ability to translate my often jumbled ideas, and I am very pleased with the results.

He was also very flexible when it came to making appointments, which was important to me as I live out of town and have a very erratic schedule!

Ishpeming, Michigan
Victoria Jungwirth
Wilderness Herbs