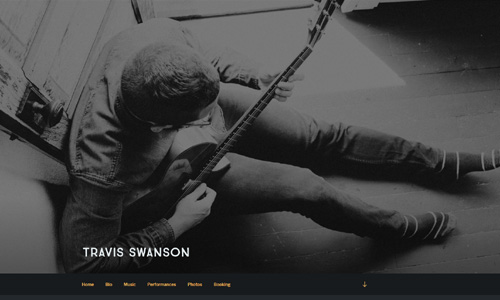 Client: Travis Swanson Music
Date: May – December 2017
Task: Personal Branding, Logo Design, Web Design, Album Design, One-sheet Design, Business Card Design
Travis Swanson, a musician of rare depth and maturity.
We advised and consulted with Travis to help him develop his personal brand. We created a visual identity with a monogram logo. The website was designed to be simple and useful. It features a one-page design, full screen background images, a sticky header, a bio written by music journalist Tom Hyslop, self-hosted music player with one track from his album, links to purchase his album, performance calendar, photo gallery, booking info, and social media links. The calendar is extra slick because it's automatically updated whenever Travis adds a new event to his Google calendar.
Client Testimonial from Travis Swanson
Obadiah is incredibly knowledgeable and is very easy to work with.

I highly recommend his services to anyone looking for high quality work done in a professional and timely manner.

Grand Rapids, Michigan
Travis Swanson
Travis Swanson Music