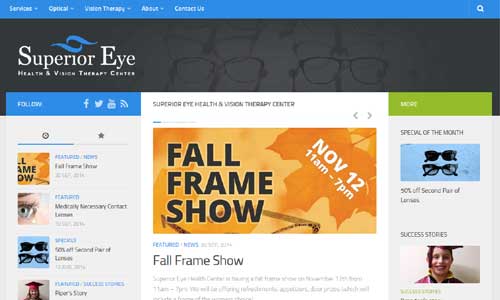 Client: Superior Eye Health & Vision Therapy Center
Date: April – October 2014
Task: Identity & Logo Development, Print Design, Web Design, Front-end Development, CMS, SEO
Superior Eye Health and Vision Therapy Center is an optical business that offers many unique services for the Marquette area. They are dedicated to continual education and discovery about the complex visual system and the best way to evaluate, prevent, and treat disorders.
I helped refine their visual identity and develop their logo. I also created a new website that helps set them apart from the local competition. The site showcases their offerings, experience and professionalism as well as educates existing and prospective patients. The new site was designed with User Experience (UX) in mind and is a drastic improvement from their previous website.
Read more about Superior Eye →
Client Testimonial from Superior Eye
Working with Middle Ear Media has been an eye opening experience. They were able to show us where our website was old and outdated and implemented a plan to fix it. We are now able to easily view our website on any media device, and navigate more efficiently. The overall image they came up with is amazing.

We would highly recommend Middle Ear Media to anyone. We like to keep our business local, and the price and quality of the work they did is beyond comparison with the commercial competitors out there.

Thanks for all the great work!

Marquette, Michigan
Grace Cohen
Superior Eye Health and Vision Therapy Center