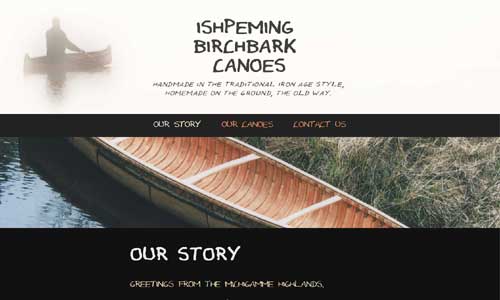 Client: Ishpeming Birchbark Canoes
Date: February – June 2014
Task: Identity, Branding, Font Development, Web Design, Front-end Development, CMS, SEO
Ishpeming Birchbark Canoes produce handmade birchbark canoes in the traditional style of the Ojibwe.
I created a website for Ishpeming Birchbark Canoes that features a custom handwritten font. By providing a personalized online presence and offering prospective customers vital information about the company and the lifestyle, the site engages visitors and helps increase conversions. Careful consideration of Search Engine Optimization (SEO) techniques and best practices help draw in traffic from around the world.
Read more about Ishpeming Birchbark Canoes →
Client Testimonial from Ishpeming Birchbark Canoes
My name is John Jungwirth. My partner and I live in the bush of the U.P. and are computer illiterate. To make ends meet, we juggle several micro businesses. When it was time for an upgrade, I sat down with Obadiah of Middle Ear Media. I'm artistic and wanted a 100% handmade website, so he figured that out.

People tell me it's fabulous. It's generating interest and beginning to pay itself off.

Our thanks to the "wiz".

Ishpeming, Michigan
John Jungwirth
Ishpeming Birchbark Canoes