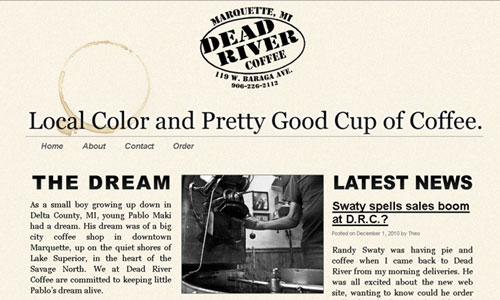 Client: Dead River Coffee
Date: November 2010 – January 2013
Task: Web Design, Front-end Development, CMS, E-Commerce
A big city coffee shop in downtown Marquette, up on the quiet shores of Lake Superior, Dead River Coffee custom roasts a wide selection of fine Arabica coffees brought from exotic locales with strange-sounding names. In 2011, E-Commerce functionality was removed from the site. In 2013, the entire site was simplified into one page.
Read more about Dead River Coffee →
Client Testimonial
We at Dead River Coffee called on Obadiah at Middle Ear Media for a web design consult after looking over a number of locally owned web sites and asking for the opinions of people we trust. The experience of working together has been good to say the least.

Our requests of Middle Ear Media were both very specific and very vague. All were handled with aplomb and grace. When a request could not be fulfilled within the confines of the budget or the state of the art, the reasons were explained and alternatives suggested to accomplish the desired goal or effect.

We asked for a fully functional web site we could "grow into" and alter to fit as we polished our skills. Middle Ear Media provided us with what we wanted, well within our budget, and has followed up with help and suggestions as we move along.

Marquette, Michigan
Theo McCracken
Dead River Coffee