The Organgrinders were in need of a new one-sheet. They wanted something really professional looking that could be emailed or printed. A good one-sheet is essential for booking efforts and promotion to festivals, clubs, radio, weddings, blues societies, and blues publications/reviews.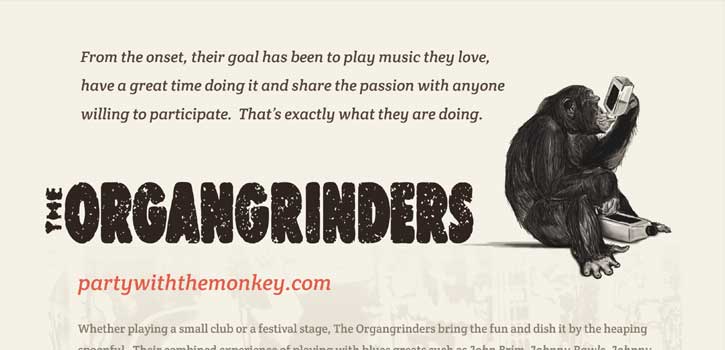 Features of the one-sheet design
The one-sheet design I produced is high quality and very professional. It's based on a clean, minimalist style. It has a modern, yet classy feel that will perpetuate the group's image as a party/fun band. Respect for tradition and authenticity are important to the band. However, they didn't want it to be too serious.
Common cliché graphics were avoided. Overly vintage or retro looks were avoided. Included on the one-sheet is the band name, logo, website URL, band description, list of band members, booking info, quotes, four smiling faces and at least one inebriated primate.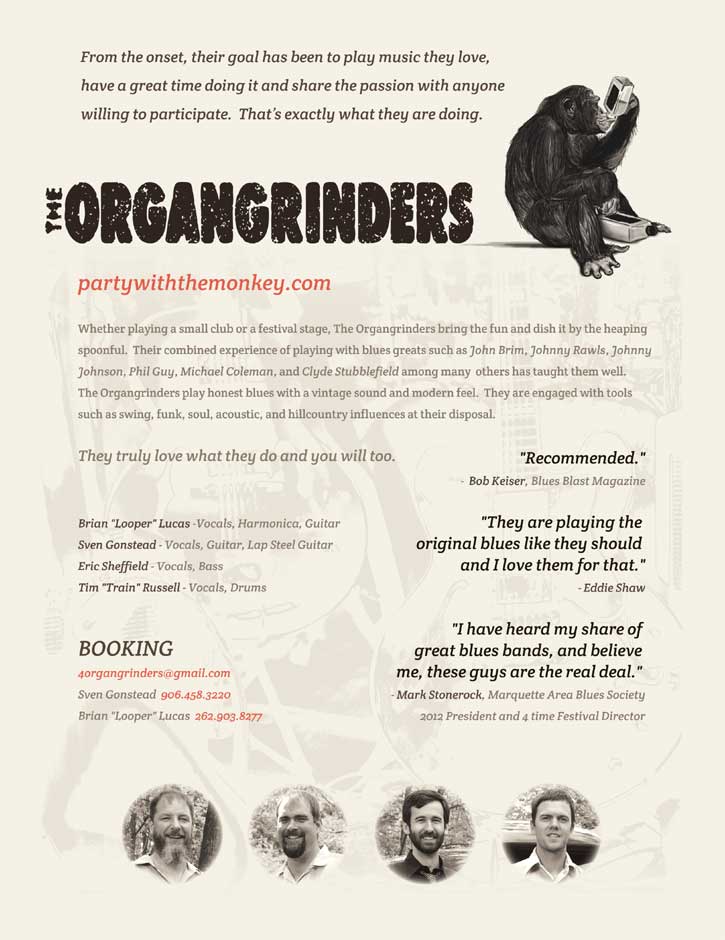 The overall tone is light. The layout is well balanced. The information is presented in a clear, digestible format. The background is off-white or maybe light tan with a large image of guitars. The background color and image help give it a bit more personality and visual appeal. The image is faded to help maintain readability. The guitars are the actual instruments played by the band.
The typeface used for everything but the logo, Crete Round, is very modern looking yet not too mechanical. It's also very legible. The colors used are several shades of brown, and orange. The darker brown for headings and other important information, lighter brown for the rest. Orange for the contact info and links to make them easy to locate.
Making It Easy
Their new one-sheet design conveys the Organgrinders' story in a compelling way. In consideration of the reader's time and needs, the one-sheet is designed to tell people what they need to know, and make it easy for them. After all, the best way to get someone's attention is by being respectful and considerate.