Ishpeming Birchbark Canoes has been producing handmade birch bark canoes for many years. These canoes are amazing! They are made with traditional local materials, and simple hand tools by John & Victoria Jungwirth of Ishpeming, Michigan. In need of an online presence that would clearly express their lifestyle and personality in a thought provoking way, Ishpeming Birchbark Canoes came to me with the desire to expand awareness of their brand into new markets and increase sales. The site has just launched! Their story is now being shared with the world on their new responsive website.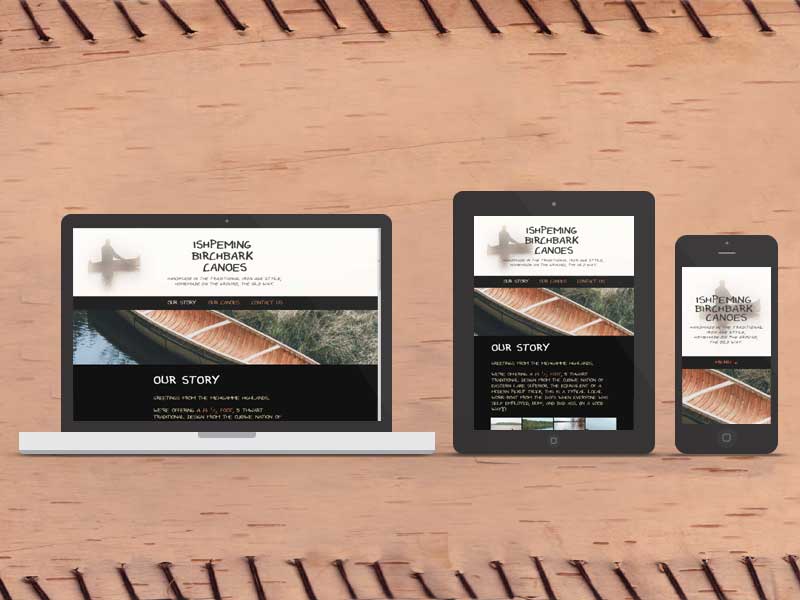 Overall Design
The overall tone of the design is dark, with vibrant colors. It's traditional, but in a totally modern way. The custom, all-caps, sans-serif typeface is unique and very personal. Along with the business name and tagline, a stunning photograph of John Jungwirth paddling alone in the mist is featured in the header. Just below the main navigation menu is a photo of the midsection of a birchbark canoe with grass on one side and water on the other.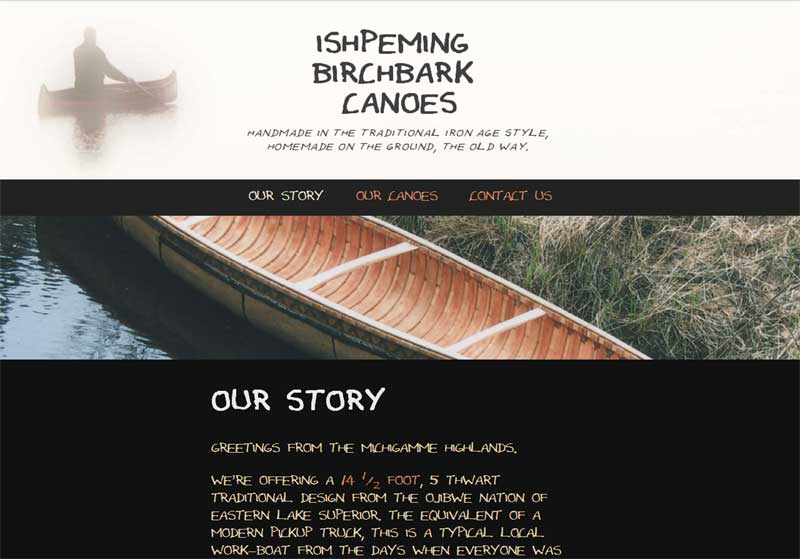 The new website makes use of many photos to help tell the story. The navigation is simple and easy to understand. The website was designed in a way as to be intriguing, compelling, and provocative. The site contains information about Ishpeming Birchbark Canoes and their lifestyle, a list of handmade offerings, contact information, and a speakers corner.
Hand drawn illustrations by John Jungwirth are featured throughout the site. Most notably in the footer. The favicon is John's triangular bullet shape. The color scheme consists of dark gray, white, and khaki. Links can be identified by their terracotta color that changes to bright blue when hovered over.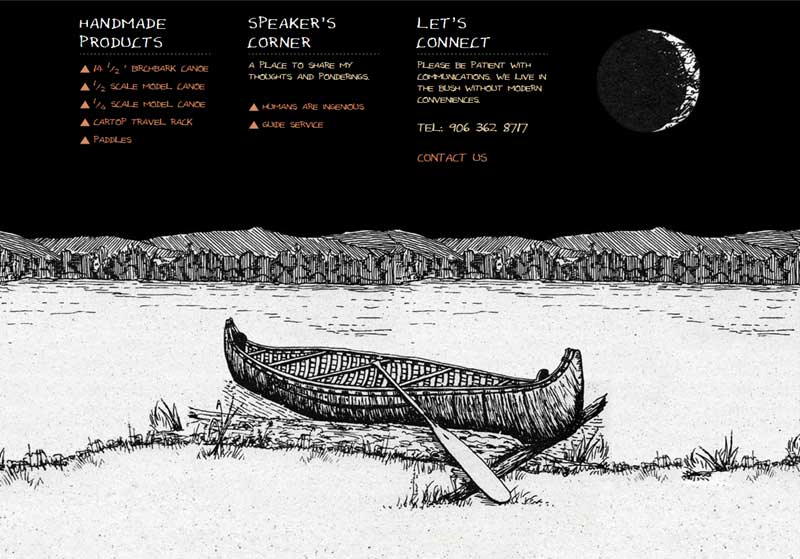 Features of the Ishpeming Birchbark Canoes Website
Fully Responsive Design
This website was designed to operate responsively to the screen size of the device it's displayed on. Therefore, it will function well on smart phones, tablets, laptops, desktops, and whatever else comes along.
Custom Webfont
For the site's typography, I developed a custom font called "Jungwirth" based on letters hand written by John Jungwirth. Using this personalized, custom font, I generated a webfont that can be rendered in the browser. The webfont is embedded in the site, and is a key feature of the design.
Image Galleries and Pop Outs
Most photos on the site are displayed as thumbnails. When hovered over, the image caption is displayed. When clicked, the full-size image is shown in a modal window overlay (aka pop out) with the caption below and navigation arrows to the left and right. These arrows allow visitors to cycle through all images on the page.
Hand drawn illustrations
Hand drawn illustrations by John Jungwirth are featured throughout the site. Most notable is the illustration in the footer.A canoe with paddle is on the near shore with the far shore in the background and the moon floating above in the night sky.