It can seem daunting at times, but it's very important to learn how to blog effectively by choosing better topics to write about. Do you suffer from writer's block and have difficulty generating ideas? Or have you experienced information overload and just couldn't seem to narrow down your ideas? It happens to all of us at times, but if you keep in mind the following tips, you should be able to generate engagement and interest in your blog.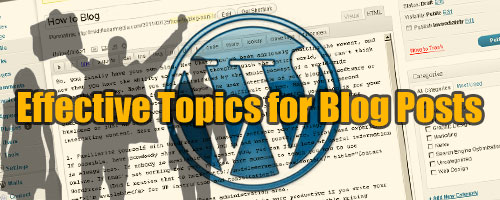 1. Choose a Topic You're Passionate About
When choosing a topic for your next blog post, you should choose a topic you're passionate about. Your passion will show through in your writing and help you deliver quality content. Also, the entire process will be more rewarding. However, it's important to keep in mind the goals and motivations of your potential audience. Make sure to generate engagement and interest by giving them something unique.
2. Brainstorm for Ideas
Would you like to generate more ideas for topics? While brainstorming, open the gate and let your ideas flow. Reserve all judgement till later. Only after generating a large number of alternative options should any ideas be decided upon. Give yourself a time limit of 10 to 15 minutes or whatever you're comfortable with. Review the purpose of your blog. This is the context that your blog posts will fit into. Write down just enough of each idea to clearly identify it and then move on to the next. When the time's up or when you've exhausted your brain, rewrite your ideas into a more legible and complete list.
3. Focus on One Main Idea
Identify the main idea you wish to communicate and focus on it. Having a topic that's too broad or including too many other topics will cause the average reader to lose attention faster. If you have more than one, try writing a series of blog posts about a related topic. This is a great way to express all of your ideas while maintaining focus with your posts.
4. Write a Review
If you read, write a book review about an interesting book you've recently read. Briefly discuss the book and how it affected you. Give the author whatever critiques or accolades come to mind and you're done. Apply the same principle to a movie, product, app, or whatever! This is a great way to express your opinion or showcase your expertise in a particular field, but be aware that others may not agree with you.
5. Write About a Polarizing Issue
Certain issues tend to elicit opposite and extreme responses. By weighing in on such an issue, you can attract more attention and more traffic to your blog post. You should be extremely careful when writing about a polarizing issue because you run the risk of alienating a large percentage of your potential audience.
6. Interview Someone
Interview someone who is accomplished, visionary, or inspirational. Someone in your industry is best, but not necessary. Make sure to do your homework and ask them relevant questions. It's very important to leave the impression of a professional. This is a great opportunity to add value to your post via shared experiences and insights.
7. Choose a Topic Related to a Previous Post
If you've already posted to your blog, look through your previous posts for topics you could expound upon. You could approach the topic from a different angle, dive into the details of some aspect of the topic, or look at alternatives to it. Regardless of how it's done, it should help give your blog posts continuity.
Learn How to Blog Better
I hope that these tips will help you choose better topics for your blog posts. With better topics to choose from, it should be easier to generate quality content that your readers will enjoy. Blogging shouldn't feel like work. Learn how to blog better and don't forget to stay creative!
Be sure to check out the previous post in this series How to Blog: For Beginners.