There are many reasons to have dynamic content on your website, but the two most important are to increase traffic and to increase sales. Dynamic content will drive traffic to your site by helping give you a better ranking in search engine results. It can drive sales (assuming you're selling something) or conversions by giving your visitors a better user experience.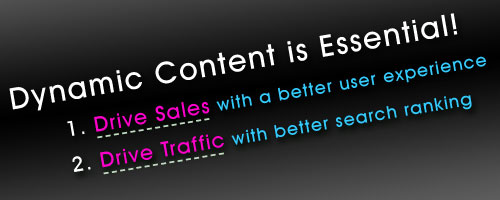 What is dynamic content?
Back in the day, a hypertext document on the world wide web was a static file that looked the same to everybody who viewed it. If the page was lucky, it would be updated periodically, but for the most part, it just remained the same and collected virtual dust. If you've ever stumbled across a website that looks like it hasn't been updated in 10-15 years, it probably hasn't.
In contrast, a dynamic document on the world wide web can be customized for each user based on individual conditions or parameters. So it could show different content depending on the time of day, a user's profile, operating system, browser or just about anything else.
Sometimes referred to as "conditional content", it allows a more unique experience for the user with personalized messages and such. With dynamic content, the content is separated from the design and stored in a database. The content seen by the user is generated at the time of request at the server level using CGI, ASP, PHP, or a content management system.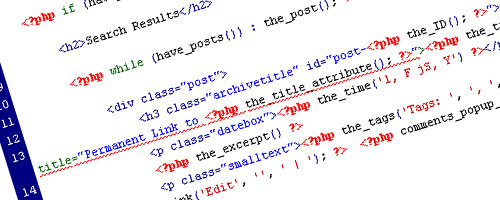 How does it drive traffic?
Search engines, or more accurately, their search bots (also known as spiders) crawl the web and index the sites they find. They prefer dynamic content over static content because they figure something that changes often is more relevant than something that doesn't. Therefore a dynamic page is more likely to ranked higher on a search engine's results page and that means more traffic to the site.
How does it drive sales?
Even more important than its SEO benefits is the fact that human visitors like to see something different each time they visit a site. It keeps them interested. If it looks the same every time they visit, they are much less likely to return again. We humans also tend to enjoy an experience more if it's personalized. For example, when a user logs in, they might see a custom welcome message that includes their name. No matter how it's done, if a user has an enjoyable experience while using your site, they are much more likely to return again. They are also more likely to tell all their friends how great your site is, buy your widgets, visit your physical location or sign up for your service.
Using a CMS like WordPress, Drupal, Joomla, etc., allows you to control your dynamic content very easily, hence the massive number of "blog" type sites that have popped up over the last several years. The key to this is quality not quantity. You must give your audience something that is interesting or important to them.
So, keep it fresh, keep it flexible, keep it dynamic.