The sales pitch for a Do It Yourself website might seem attractive when you see the ad on TV or in the sidebar of your favorite social network, but do you really have the time? Do you really have the motivation? For most people, the answer to these questions is no. Let's take a look at some of the reasons why DIY websites are a bad idea.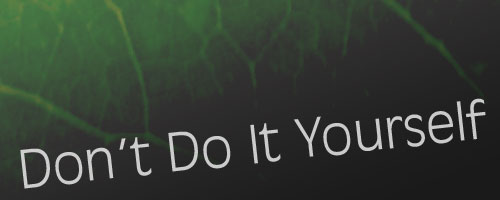 Opportunity Costs are High
Compared to any other form of advertising, having a website is by far the most economical. Some people cringe at the thought of spending money to have a website designed, developed and hosted on the internet 24 hours a day, 7 days a week, and 365 days a year. At the same time, they're shelling out cash for short-term print ads left and right. Maybe they are afraid of the technology, but more likely they simply don't understand how beneficial it could be to their business.
Let's be honest. The main reason why someone would consider a DIY solution is that they're trying to maximize their gain for a minimum cost. Unfortunately, it's not that easy. While the initial cost may be low, the opportunity costs are high. Due to inflexibilities and limitations, your search ranking ability could be diminished. Also, consumers can spot cookie-cutter template websites instantly. This type of site rarely encourages confidence in the user. If the site is too generic looking, it may cause confusion because of inconsistency with the organization's identity or brand. Additionally, the turnover rate will be greatly reduced.
Another reason why people go for DIY solutions is they want control of the site's design and layout. Maybe because they're control freaks, but sometimes from a genuine artistic desire. Even so, lack of experience in UI and UX often lead to poor design choices, which often lead to unsatisfactory user experiences. These are the sort of things that cause users to leave a site promptly and never return. This is fine for the amateur, but it is unacceptable for a professional organization or business.
Websites are Complex Systems
Websites are just good looking graphics, some text, and links right? Wrong. Websites are complex, dynamic, multilayered systems that exist and evolve over time. Creating and maintaining them requires fundamental knowledge of numerous underlying technologies and concepts.
Consider the following: AJAX, Analytics, Animation, Apache, APIs, Audio Formats, Blogging, Browser Differences, CGI, Content Management Systems, Content Management Strategies, Copy Writing, CSS, Databases, Data Feeds, Digital Image Manipulation, Domain Name Registration, E-Commerce, Forms, HTML, HTML emails, Image Formats, Industry Best Practices, JavaScript, JSON, Layout, Mailing Lists, Micro Formats, Operating System Differences, Page Loading Speed, Payment Gateways, Photography, PHP, Screen Size and Resolution, SEO, Security, Shopping Cart Systems, Social Networking Integration, SQL, Standards, Subscriptions, Typography, UI, UX, Web Hosting, Websafe Colors, Webfonts, WHOIS Privacy, XHTML… and the list goes on.
In addition to fundamental knowledge, it is also important to stay abreast of all updates and watch out for emerging technologies, concepts, and techniques. The world is changing, and the world wide web is changing even faster.
Hire a Professional
If you feel like you have the skills, motivation, time, and resources to maintain knowledge of everything required, then more power to you. You'll probably be a great web designer and developer one day. If not, do yourself a favor and hire a professional. Your business or organization will be better off for it.
Full Disclaimer: I am a professional web designer and developer who would love to help you with your website needs, whatever they are.