Che Bello Boutique is a locally owned men & women's clothing boutique located in beautiful downtown Marquette, Michigan. The boutique carries a variety of new trendy affordable junior, women and men's clothing, as well as accessories. To reach a broader market with an online shop, Che Bello recently had an e-commerce website designed and developed by Middle Ear Media.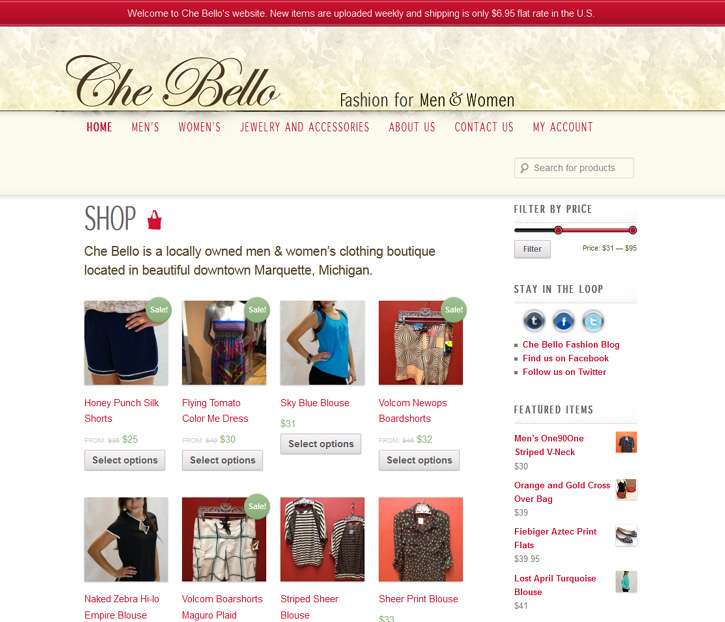 Features of Che Bello Boutique Online Shop
Che Bello Boutique's online shop includes many advanced features and was designed to be very user friendly. It uses a Content Management System that was developed in a way that makes it easy for Che Bello to upload new products and keep track of inventory.
Drop-down Navigation Menu
The main navigation menu is laid out horizontally below the logo. It includes options for specific product categories, each of which offers it's own sub-categories in a drop-down menu when hovered over. The menu also includes the standard "About Us" and "Contact Us" links as well as "My Account" where visitors can login or register for an account with Che Bello Boutique. Registering isn't necessary to make an order. It's optional.
Breadcrumb Menu
The breadcrumb menu appears below the main navigation menu when a visitor explores the sub-category pages of the shop. It also appears on the individual product pages. It's called a breadcrumb menu because, like in the story of Hansel and Gretel, it creates a trail that helps the user keep track of their location. It provides links back to the parent pages of the current one.
Filtering Items
Their are several ways to filter items. As mentioned above, the main navigation menu offers the ability to narrow down the product listing. There is also a search field for custom searches of the entire site. Additionally, on each category page, there is a "Filter by Price" slider in the sidebar that can be adjusted to show only products that fall into a certain price range.
Social Connection
To keep people in the loop, there are several options for social interaction. In the sidebar, there are links to Che Bello's profiles on Facebook and Twitter as well as the Che Bello Fashion Blog on Tumblr. These are linked as icons and as text to eliminate any confusion. Also, in the footer section, there is an option to join the Che Bello mailing list to receive e-mails about sales, discounts, and special events.
Sale Items
Che Bello has the ability to mark down any item. When an item is marked down, a small green circle with the word "Sale!" appears in the upper corner of the product's thumbnail image. Also, the product shows what the original price was so shoppers can see how much they are saving.
Featured Items
Che Bello can set any specific item as a featured item. When featured, the item shows up in the sidebar below the social links. This gives the item much more exposure because it can be seen on almost every page of the site. Therefore, it's more likely to be purchased.
Coupon Codes
Che Bello can set up and distribute coupon codes that will give the possessor an additional discount on their purchase. The coupon code can be entered on the shopping cart page or the checkout page.
Stock Control
Having the ability to manage inventory was very important to Che Bello Boutique because they only carry anywhere from one to six pieces of a particular style. When stock of a particular item reaches zero, the product is automatically removed from the site to prevent the ordering of an out-of-stock item.
Product Page
Each product page includes a breadcrumb menu, the product name, price, short description, options, stock level, add to cart button, the category or categories to which the product belongs, and an image or multiple images of the product. Additional information about the item is also included such as colors and sizes, and related products.
The full size image shows as an overlay when the main product thumbnail is clicked. If there are multiple images, they can be navigated by clicking directional arrows on the full size image. To close the full size image and return to the product page, the user can click an "x" in the upper right corner, or anywhere outside of the image.
Shopping Cart and Checkout
After a user successfully adds a product to the cart, it can be viewed by clicking the "View Cart" button. The Cart page gives the user a chance to review all selected products, along with their respective options, price, and quantity. A coupon code (if available) can be added here as well. This page also lists the cart subtotal, shipping, order total, and "Proceed to Checkout" button.
The Checkout page requests the standard billing and shipping information, and gives the user a chance to register an account or login if already registered. When the "Place Order" button is pressed, the user is directed to Che Bello Boutique's PayPal page where they can pay via PayPal or with credit card. All payment processing is done through PayPal.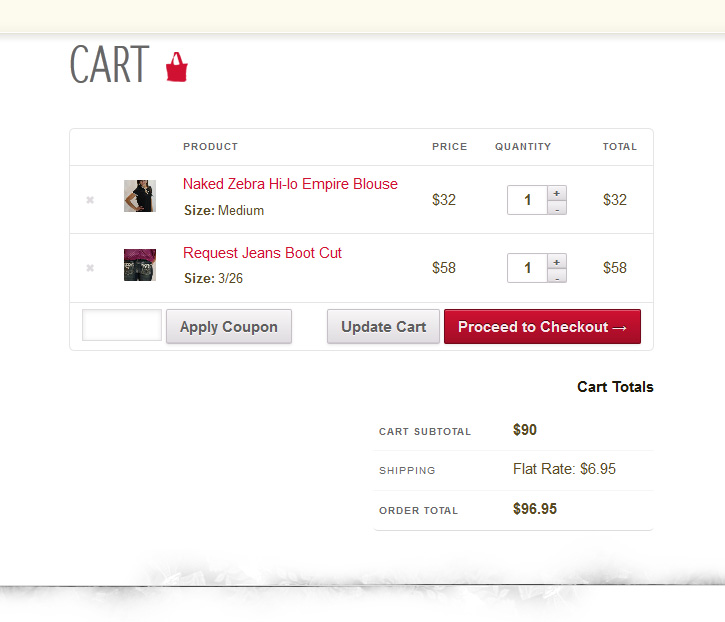 With their new e-commerce site finished, Che Bello Boutique is now fully equipped to sell online. Their physical location in Marquette is no longer a limitation. Giving customers the ability to shop online from the comfort of their own home is a great way to expand business!