As the new year rapidly approaches, you might want to think about how to promote your website better. This is the perfect time to set goals and make plans. So, I've compiled five techniques that you can and should be using to increase traffic to your website. Some of them are free and some require money. Some are quick to do and some require an ongoing process.
1. Include Your URL on all printed material.
Including your URL (aka your web address) on all of your other promotional material might seem like an obvious thing to do, yet there are many people who don't take full advantage of this technique.
Your URL should be printed on anything and everything possible including stationery, business cards, brochures, invoices, literature, store-front signs, and even vehicles.
By doing this, you are maximizing the use of existing materials to advertise your site as well as reinforcing your brand to all existing clients.
2. Social Media
First of all, what is Social Media? This is a term that includes blogs, social networking sites, social bookmarking sites, and forums. These sites encourage people to interact with each other and make it very easy to get your message out to the masses.
There are millions of people using social networking sites such as Facebook, MySpace, Twitter, and LinkedIn everyday to make comments, share personal information, and share links.
Social bookmarking is a way to share, organize, search, and manage bookmarks of web resources. Social bookmarking sites include Digg, StumbleUpon, Reddit, Technorati, Delicious, and Slashdot.
So, go create a profile for your business at any or all of these sites and use it as a way to expose more people to the content on your site. Of course, this will be even more effective if you actually engage in conversations and interact with other users rather than just "spamming" them with promotional links.
3. Submit your site to Online Directories
There are a ton of different directories online. Some are all inclusive, some are industry specific, and some cater to local businesses.
Two free options for listing your local business are Google Local Business Center and Yahoo! Local. These are both great ways to make sure people can find your site when doing a local search.
4. Traditional Advertising
Yes it is true that the print media industry is declining as more and more people realize how much more efficient and effective the internet is. That being said, print media is still important. This is even more so for local businesses.
Many people still read newspapers and magazines for their news and a nicely designed print ad could draw them to your site. Another traditional form of advertising is the radio. Radio ads can help attract listeners to your site as well.
Keep in mind that these methods may not work well for certain types of businesses. It is important to know your intended audience before shelling out the cash for traditional advertising.
5. E-mail Marketing
When I say e-mail marketing, I don't mean unsolicited mass mailings, also known as spam. I'm talking about things like starting a Newsletter, or including a custom signature at the bottom of all e-mail correspondences.
A periodic e-newsletter is a great way to keep people interested in what you do. It is important to include and emphasize a sign-up option on your site. Make sure it is easy to sign up. Also, using a well designed HTML e-mail template will make your newsletter more appealing.
A custom signature at the bottom of all e-mails should include your name, business name, URL, with an active link to your site and can also include an image of your logo or a custom designed banner ad. This signature will be seen by everybody you communicate with through e-mail. It will make it easy for them to get to your site and reinforce your brand.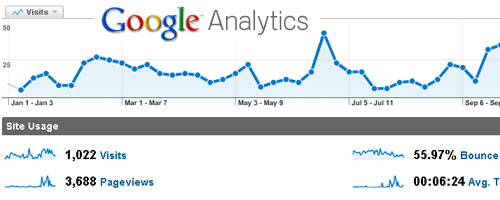 After doing all these things, how will you know if they are working? The best way is to use some sort of statistics program to track activity on your website.
Most commercial hosting packages include statistics tracking abilities, but I recommend Google Analytics because of its great depth, flexibility and visually appealing reports and graphs.
If you need help setting goals or analyzing your data, I offer this as one of my services. Please contact me to discuss in more detail.