As the year 2014 comes to an end, let's take a moment to reflect on where we're at, and how we've gotten here. Middle Ear Media was busier than ever in 2014. Lot's of client work and in-house content creation. I would've liked to work more on my web apps and web audio tutorials but time ran short. I did manage to get all the web audio stuff updated to match the new spec. Hurray! But what else went down this year? Surely I must have accomplished something or other. With the 2014 Year in Review, I'd like to share details of my adventures over the past twelve months.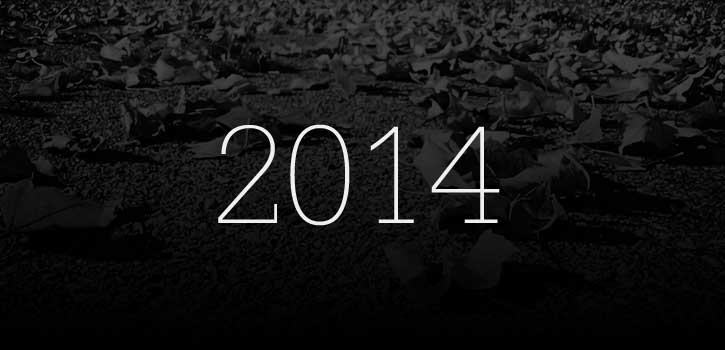 Sharing Resources & Inspiration
Overall, I managed to put up 36 blog posts in 2014, way up from last year's 20 posts.
I'm still sharing design resources such as texture packs and color palettes. I'd like to offer more resources in the future. Perhaps more web-specific resources such as code snippets or development techniques. Also more audio-related resources like sample packs, loop packs, and pure data patches. It is my sincere hope that someone will find this stuff useful.
In January, I began sharing showcase roundups for various web design trends and techniques such as flat design, web fonts, and fancy scrolling. I like the idea of sharing concepts, trends, and design elements from around the world. I plan on doing more of these next year.
Middle Ear Media was more active on more social media sites in 2014. I expect to be even more social in 2015, but in the meantime you can find me on Facebook, Twitter, Google+, Pinterest, WordPress, and GitHub. Don't be shy!
Playing Music
Besides all I do at Middle Ear Media, I'm a musician too! It's been a slow year for me in the song writing and music playing department. In January, I formed a new dub reggae band with a couple friends. In this band, I sing, play keyboard, and do live mixing and effects. The Steady Holders have been slowly working up a repertoire of original tunes, letting a unique sound evolve, and having fun doing it. Over the summer, we performed for the Cedar Tree Institute's Mid Summer Celebration on Presque Isle in Marquette.
Since October, I've also been playing bass guitar with Mike Letts & the Marquettes. Playing mostly blues and rhythm & blues, we had a couple gigs including one at Blackrocks Brewery in early December. Yes, good times were had!
Friends, New & Old
As part of their media campaign, Earthkeepers II had me produce a Public Service Announcement (PSA) for distribution to Marquette area radio stations in January. Actually, three different thirty-second PSAs were produced. Each one featuring my music and a unique message by a different member of the Earthkeepers II NMU Student Team.
In February, Middle Ear Media created and launched a website to help give AMP Corp. a professional online presence. Advanced Materials Processing Corporation (AMP) is a Thin Film Coating company based in Massachusetts. They offer Service Manufacturing to the high-technology sector by adding value and performance to other companies parts and products.
In March, I designed a One-sheet for the Organ Grinders. It turned out really great. The band had a quirky reputation and a great logo, so it was fun to work on.
In May, I finished a new responsive website for the Yellow Dog Watershed Preserve. Their ongoing mission is to preserve and protect the Yellow Dog River and surrounding watersheds for the benefit of present and future generations. I think that's pretty awesome! Don't you?
In June, I helped Ishpeming Birchbark Canoes share their story with a responsive website. These canoes are amazing! They are made on the ground with traditional local materials, and simple hand tools by John & Victoria Jungwirth of Ishpeming, Michigan.
I had the privilege to design some graphics and help promote Becky Saves The Bees, an original children's play that teaches the global importance of pollinators with singing, dancing, and flying bees & butterflies! The play was put on by E.A.R.T.H. Angels, a 501(c)3 non profit organization using aerial performance art to raise awareness of environmental issues.
In November, Superior Eye Health & Vision Therapy Center got an identity overhaul and responsive website. After consolidating their visual identity and redesigning their logo, a new responsive website was created with a massively improved User Interface. I also designed a flyer that was printed and locally distributed to promote their fall frame show.
Outdoor Fun
I didn't enjoy the great outdoors enough in 2014. Maybe it was all the work I had to finish, or maybe it was the incredibly short summer. Who knows. However, it's hard to avoid the great outdoors altogether when you live in the Upper Peninsula of Michigan. I managed to snap a few photos while out and about. Enjoy!
Looking Forward
Posting this 2014 Year in Review is a good way for me to remember what happened this year, and put it all in perspective. As I reflect on where I'm at and how I got here, I feel like I've finally arrived. It's an amazing time for web development. The mobile revolution is upon us. Responsive Design is key to the future of the web. One web for all devices! Social Media can not be ignored. Because of the depth of engagement it allows, Social Media is more important than ever before. Interactive audio is fun. As the Web Audio API continues to gain more browser support, it will become a staple in the toolbox of all web developers.
I'm here to help grow your business. Whatever it takes. I'm looking forward to exploring new territory, forging new alliances, and growing in 2015. To stay on top of things, I'll make a supreme effort to design more, develop more, support more, and create more.
Thank you all for your continued support!
Happy New Year!