As the year 2013 comes to an end, let's take a moment to reflect on where we're at, and how we've gotten here. We survived another revolution around the sun. Or have we? Although most of us agree the Earth is round, flatness is a concept that has returned in a big way. As flat design trends sweep the internet, it's important to hold steady and not get carried away with trends. After all, we live in a multidimensional universe, or possibly a multiverse. Either way it was a big year for Middle Ear Media! With this 2013 Year in Review, I'd like to share details of the past twelve months.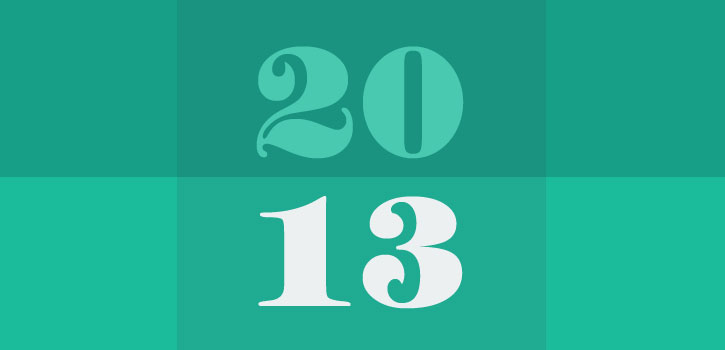 Developing Things
I was busy learning new technologies and diving head first into development projects in 2013. In April, I released my Virtual Kalimba. Virtual Kalimba is a Web Audio App that uses the Web Audio API to recreate a kalimba, also known as an mbira or thumb piano, in a web browser. Learn more →
In May, I released my Virtual Hang. Virtual Hang is a Web Audio App that uses the Web Audio API to recreate a Hang, a steel hand pan instrument. Learn more →
I'm currently working on some new updates to my free WordPress plugin. Super Custom Login was created in October of 2012, but is still being downloaded by new users almost every day. As of this writing, its been downloaded well over 5,000 times by people from all over the world.
Sharing Knowledge
In March, I began writing tutorials about the Web Audio API. The Web Audio API is a high-level JavaScript Application Programming Interface (API) that can be used for processing and synthesizing audio in web applications. As an audio engineer and a web developer, this is something that combines two of my greatest interests. I'm excited about the new capabilities, and eager to share my passion.
Learn more about the Web Audio API in the following tutorials:
Look out for more tutorials in the future.
Sharing Resources
Sharing design resources is something I've been wanting to do for some time now. In October, I shared my Stone Texture Pack 1, a 100% free collection of high resolution images. There's been a lot of talk about cloud computing lately. In November, this inspired me to share my Cloud Texture Pack 1. In December, I shared my Snow and Ice Texture Pack 1. I plan on maintaining this pace of (at least) one new design resource every month. It is my sincere hope that someone will find them useful. After all, who doesn't love free design resources?
Playing Music
Occasionally, I manage to break away from computer-related activities and have some fun playing music. I've been writing songs for a new album and practicing them with a live band, but haven't released the album or played the songs publicly yet so keep an ear out for that. In July, I performed healing music for the Cedar Tree Institute's Mid Summer Celebration. I also had the privilege to play bass guitar with Travis & the Midnight Movers in December at the Up North Lodge just outside of Gwinn.
Promotional Efforts
In July, I designed vinyl advertizing banners for Middle Ear Media. The banners are four feet wide by two and a half feet tall. They're printed on vinyl in full color and include adhesive corner tabs for mounting. I'm now fully prepared to advertize at local events. In fact, you may have seen my banner during the last Dead River Derby event at the Lakeview Arena.
Also, I started a new Middle Ear Media Referral Program in September. Always searching for ways to help my clients, I created this referral program to give them an opportunity to earn discounts and save money. Although this program was designed mostly with my website clients in mind, it applies to all other clients as well. Please contact me if you have any questions or concerns about how you can take advantage of this program. Spread the Word and Save!
Friends, New & Old
In January, I updated the Dead River Coffee website. Originally, the website was a full e-commerce site selling roasted coffee beans. In 2011, it was scaled back to a four page site with no online ordering option. The newest modification scaled the site down to one page.
In February, I completed a project for Earthkeepers II, an environmental initiative of the interfaith community in northern Michigan. I designed their identity, logo, and website. In October and November, I updated their logo with some color and texture. The website was also overhauled in November. In December, I began recording and producing three Public Service Announcements for Earthkeepers II. When finished, the PSA's will be aired on RadioX, Northern Michigan University's radio station. The PSA's will also be available at the Earthkeepers II website.
In March, I made some updates to the White's Party Store website. Thanks to the great photos by Andy Gregg of Marquette Photo, the site is even nicer to look at. Updates included revamping the photo gallery, and replacing photos in the main image slider with higher quality shots.
Also in March, I completed the new responsive site design for Marquette Michigan's roller derby league Dead River Derby. If you don't know already, roller derby is an aggressive, full contact race between two teams of women. In December, I added a sponsors page as well as a preferred sponsors section on the site. The preferred sponsors section is located near the bottom of the site in the footer. It shows the logos of select sponsors, one at a time in a slick little image slider. The image slider is fully responsive just like the rest of the site. It will shrink to fit nicely on smaller screens or mobile devices.
In April, I finished designing the second of several websites for musician Aaron Kippola.
In October, I designed a logo and responsive website for Grant Ryan. Grant is a good friend and a talented photographer. He enjoys and excels at traditional celluloid film black & white photographic productions. The knack for capturing that special moment in time and space is evident throughout his work.
Outdoor Fun
Sometimes it's good to get away from work for a bit. The farther the better. I took full advantage of the natural beauty of the Upper Peninsula of Michigan in 2013. Various snowshoeing adventures brought me to the edge of Lake Superior. Near the far end of Presque Isle I witnessed a crystal encrusted bay reflecting the light of the setting sun. Around Little Presque I saw what appeared to be an armada of powdered doughnuts. Or perhaps it was a fleet of frozen inner tubes.
I did plenty of kayaking and canoeing this year. Kicking off the water adventures was a kayak excursion near the tip of Paradise Point. As beautiful as it is, sometimes it's necessary to leave the natural beauty of the north behind. The Upper Peninsula is connected to the rest of Michigan by a man made wonder called the Mackinac Bridge. The view of the bridge from Mackinac City is stunning.
Hold on, did someone mention doughnuts? I learned a new trick that I'd like to share. I'm sure we've all heard of roasting marshmallows over an open fire. Well, how about glazed doughnut holes? They are absolutely delicious, but don't take my word for it. Try it for yourself as soon as possible! Always remember to enjoy responsibly. Water foul, along with other tourists, have flocked to enjoy the habitat around the edge of the now refilled Dead River Reservoir.
The brilliant colors and moderate temperatures of Autumn make it a perfect time of the year to go hiking. The view from one unassuming outcropping of rock showed Sugarloaf Mountain and Hogback Mountain in the background with a sea of green, yellow, orange and red in the foreground. The colors around Harlow Lake were also particularly vibrant.
Looking Forward
Posting this 2013 Year in Review is a good way for me to remember what happened this year, and put it all in perspective. As I reflect on where I'm at and how I got here, I can hardly contain my excitement. I'm looking forward to exploring new territory, forging new alliances, and growing in 2014. To stay on top of things, I'll be designing more, developing more, supporting more, and creating more content.
It's an amazing time for web development. Responsive Design, Web Audio API, HTML5, CSS3, new mobile devices and browser capabilities are changing the game. I'd like to see all my friends succeed, and I'm here to help in any way I can. So let's all stay productive and keep in touch.
Thank you all for your continued support!
Happy New Year!